Hello everyone, this is Helena Gallardo, part of the Kenmore Design team. In today's episode we will talk about one of the main marketing strategies: emails chasers for funnels. And how you can improve your email sequences for sales funnels for your Brokerage. Before starting we will go over some basic terms, so you can have a broad vision.
Luckily for you, at the end of this post you will be able to improve your emailing strategy or to implement one if you don't have it yet. An important part of this process is that you segment your clients. If you do so, your communications will be more effective and your leads will reach the bottom of the sales funnels, where they finally become clients.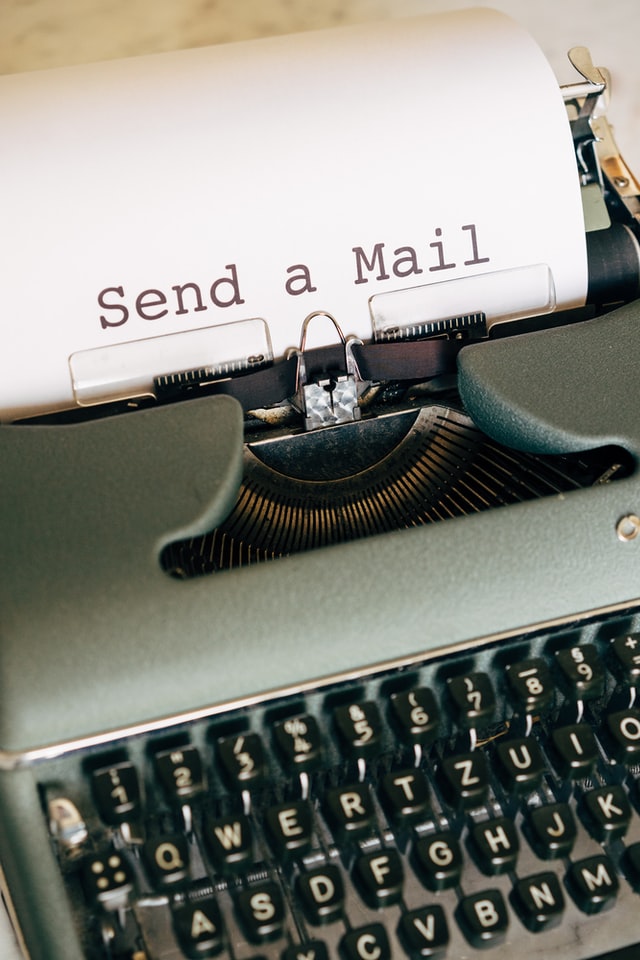 LEADS, PROSPECTS AND SALES FUNNELS
Firstly, let's clarify some concepts. When you start a marketing campaign, you have to decide what your goals are. To do it properly, follow the SMART rule. Your goals have to be Specific, Measurable, Achievable, Realistic and Time bound. Thanks to our funnel each of your targets will have a structure :
Sales Funnel: Structure divided into different stages: from the person that visits your website to the conversion into a deposit.
Lead: A person interested in our product who provides a little information about themselves.
Prospect: Like the lead, the prospect is a person who wants to know about your forex offers. They were a lead before become a prospect. But now they are in another stage of your funnel. They are closer to your goal.
Demo Accounts: Those who registered and tried their hand at trading.
Unfunded Accounts: Those who got stuck in KYC or deposit stage.
Active client: Those who traded or made a deposit within 30 days.
A SALES FUNNEL EXAMPLE: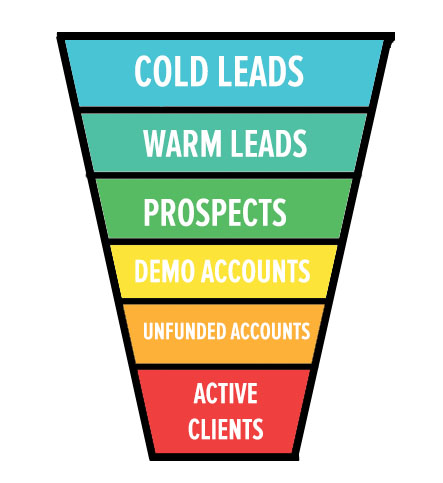 DEFINE YOUR PROSPECTS AND CLIENTS GROUPS
Now you're ready to segment your audience.
For example, let's take two groups: Cold Leads and Demo Accounts. Besides we will need at least 10 email templates pre-written. Take your time when you work with these templates. You are about to build a powerful campaign for your brokerage.
Cold leads and Demo Accounts most likely are looking for ways to achieve financial success. This is the best topic to cover in your email campaigns to them. After that let's define how often we are going to be emailing. It is likely that your email will get filtered into the promotions folder – it's not a big deal as long as we are not ending up in spam! Your email should always be there when the prospect checks the promotions folder. With prospects we should start the contact right away so we will send emails the first day of their subscription. The frequency has to be high: on days 1,3, 6, 10, 15, 20 in a year.
ACTIVE CLIENTS
Active clients with an opportunity to upsell or develop can be defined as: People who did not trade for one month and IBs who did not invite clients for over one month. These types of reports can easily be done by Kenmore Design CRM.
With our existing clients we can take a gentle approach. Perhaps even give them a call before putting them into a sequence. They already trust you, just remind them once in a while that you're still there for them. Sending emails to your active clients strengthens the relationship. That first email after the call could be an email thanking them for taking a call and being a client. We suggest to start your sequence on day 3 after the call and continue every 30 days for a year till another call.
EMAIL SEQUENCES FOR SALES FUNNELS FOR YOUR BROKERAGE
This is a reminder:
Define your goals (SMART)
Create your funnels according to these goals.
Make a list of features for all the subdivisions.
Set up the email content.
Start sending emails to all your clients.
If you work differently with your funnels or if you have any suggestions or comments, leave them below. We will meet in the next episode!
---
Get started with a demo now!